Summer trends are usually hard to follow, especially if you don't have the economic possibilities to afford to buy every single latest trend but, although it's always cooler buying designer clothing, one thing you may have never considered is DIY!
In this article we will give you advice and guidance to make your own summer outfit from head to toe following our simple tips.
What you will need:
– A plain tank top
– Scissors
-A lot of time and patience!
First of all, you will need a plain tank top, possibly in a monochrome colour or, alternative, if you are a fan of fancy prints, choose the style you prefer.
Once you have the tee, you will need some scissors and start cutting little of material from the edge of the tee, possibly 2 cm wide. As to the length, choose what you prefer, just remember that the deeper the stripe is cut, the shorter the top will be.
So, after you have chosen the perfect length and cut all the little stripes, hopefully in the same size, you can then move on the next step.
Start knotting together two stripes and keep going around the whole circumference of the tee. Once you have finished knotting the first line, move on the second one, alternating the stripes, following the same scheme as a checks table.
Continue in this manner until it reaches the desired length, then cut the strips in excess and, voilà, you now have a brand new DIY top!
Although it's not a new trend, being fashionable since last year, rough edged jeans are super-trendy right now and, to complete your head to toe DIY outfit, what's better than making your own cool jeans from a pair of old plain jeans?
What you will need:
– A pair of old basic jeans
– Scissors
-Creativity!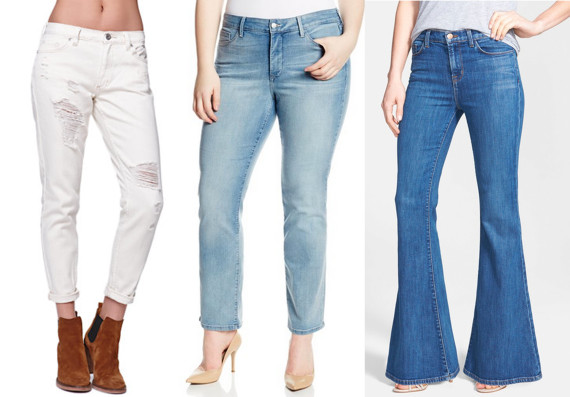 The first step is to choose what style of jeans you want to get. In fact, a factor that must be considered is the leg width and jeans shape, to make sure that you will get the result you are looking for. If you are not a lover of vintage flare jeans and you want to try and modernize them, you can go for an ankle rough cut, obtaining a similar style to the picture below.
You will just need to try on the jeans and put a mark at the height you want to cut them and, once you take them off and do the cut, decide if you want to keep a "live-cut" or a fringed one.
Also, an advice we can give you is to think about what kind of shoes you will combine to the jeans. For instance, if you are a boots' lover and will likely wear your DIY jeans with a pair of ankle boots, practice a higher cut, possibly around the middle of your calf. Otherwise, if you are more of a sneakers or flat shoes kind of person, you can make an ankle cut and keep the original jeans' flare shape.
Alternatively, if you only have skinny jeans and want to make them more fashionable and up-to-date, you can practice a raw cut at the height of the ankle and wear them with a pair of simple ballerina shoes or high heels, as seen in the picture below.
You can use the same technique of the raw cut vertically, instead than horizontally, so that your jeans will result a bit larger on your calf and, from an aesthetic point of view, they will definitely be as cool as unique!
To close these DIY tips, just one last advice; if you want to get a fringed effect on your raw-cut jeans, just put them in the washing machine and it will do all the job. To stop the fringed effect to a certain point, so that it doesn't destroy your jeans, make a seam, preferably by machine, just above the fringe.