Eyewear is never going to be out of trend and, to not let down expectations, high-end designers have launched plenty of different sunglasses styles to accomplish everyone's taste.
This summer, in fact, the most fashionable accessory is not a clutch bag or a piece of clothing, but eyewear! From the vintage lovers to the "techno-era" fans, sunglass designers have a model for each of us.
Shape-wise, the cat eyes rounded sunglasses are coming back and they're available in bold colours or embellished with crystals and other details and celebrities are loving them. For instance, Rita Ora's House of Holland sunglasses below.
As you can see, sunglasses not only help framing the face, but they also can twist a whole outfit, whether if it's elegant or casual. As for everything in fashion, it is up to you to choose the perfect eyewear style to reflect your personality and, if you are unsure what kind of style suits you the most, keep reading below and follow our advice!
-Retro style
For the "retro-lovers", Dolce & Gabbana dedicates a wide range of oversize frames, with an animal print inside and out, mostly in dark shades.
Alternatively, if you're not a fan of animal print, Victoria Beckham produces sunglasses in more delicate colours, such as creamy shades.
-Urban glam
Another evergreen is the geometric shape, which is being sold by such brands as Prada and Miu Miu. They are the perfect combination of glam and urban style and, due to this, they are the perfect choice if you want to buy just one pair of sunglasses to use in different occasions.
-Timeless
The classic aviator models have established themselves as an iconic sunglass model, which is produced by almost all the eyewear brands, from the high-fashion brands, such as Gucci, to the historic aviator sunglass producer Ray-Ban (below).
-Cat eyes
On the other hand, the popularity of silhouette cat eyes is increasing and Dior is currently the main producer. From the lightest colours, such as cream and pink to the nature-inspired colours like brown, greys and blacks. This sunglass shape is ideal if your style is elegant and classy, however, they can be also paired with a pony tail and a casual outfit.
-Simple and classic
If you are not passionate enough about eyewear to buy a variety of sunglasses, you can go for a simple, linear model which you can use on a daily basis and, occasionally at special events. A good brand to look at in this case is Bottega Veneta, producer of the most classic frames, including the ones below.
-Sparkle-lovers
Last but not least, glittered eyewear is coming back in fashion. This 2000 trend, in fcat, seemed to be out of the fashion scenery in the last few years but, thanks to the fashion house Balmain and some other eyewear designers and fashion brands, the shimmery sunglasses are now back and we couldn't love them more!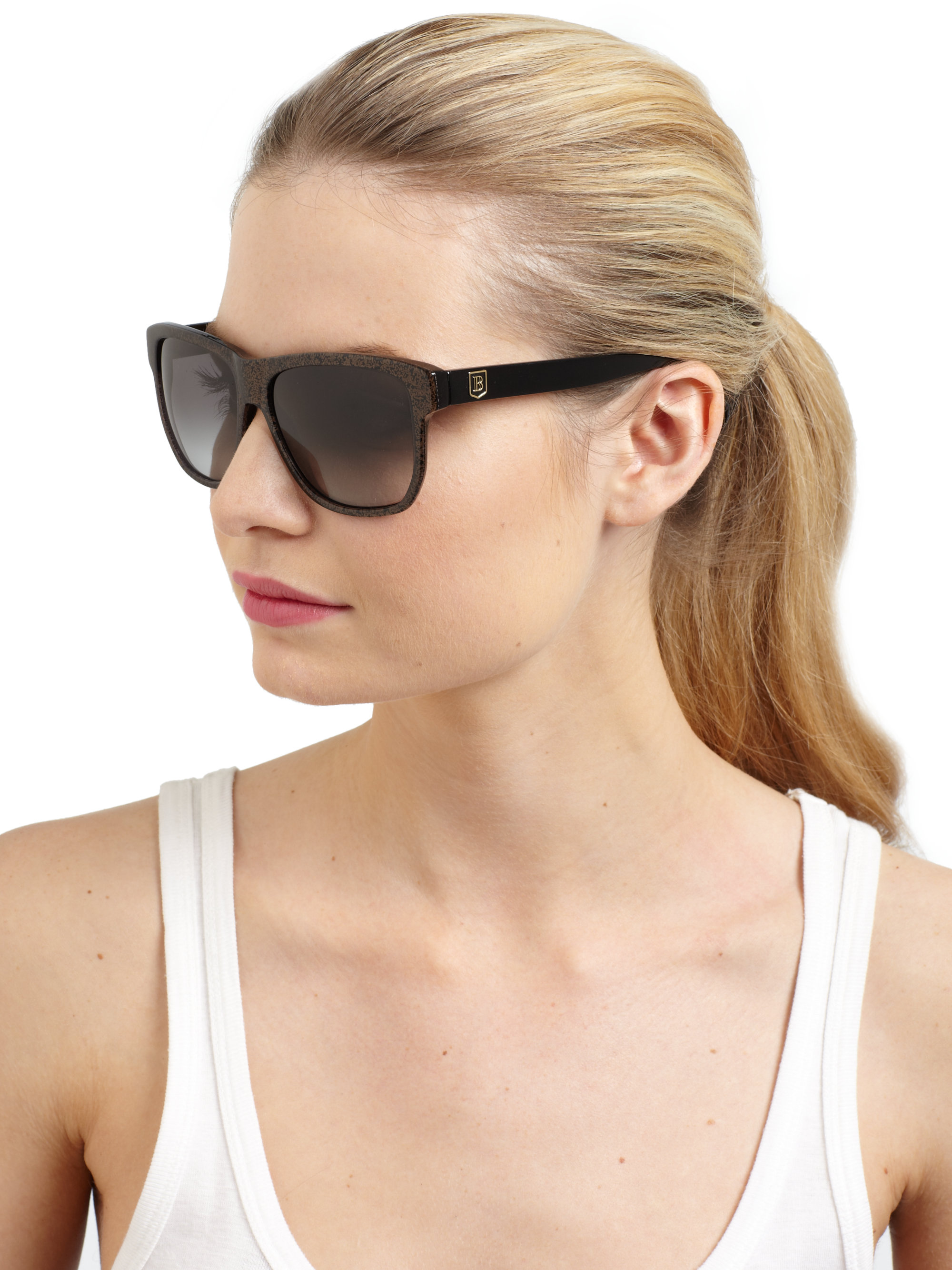 So, these were all of the different styles that you could go for if you want to get a new pair of shades and feel fashionable and trendy; just one last advice here, there's no need to look like a disco ball when wearing sparkly sunglasses, so keep it classy and remember that, as for the Balmain shades above, less is more!